Learn about +10

What is +10?

What is the Fujisawa Plus10?

Staffs and Organizations
<Physical Activity Guidelines for Promoting Health (Active Guide)>
Move your body for 10 minutes more than usual to improve your health!
"+10" is an encouragement to add 10 more minutes of exercises to what you do now. The Ministry of Health, Labour and Welfare's "Physical Activity Guideline (Active Guide) for Health Promotion" published in March 2013 sets out increasing physical activity as its main message.
---
What is Fujisawa +10?
Fujisawa +10 is an initiative started in Fujisawa City to promote adding 10 minutes of additional daily exercises

By maintaining regular physical activity you can lower your chances of developing diabetes, heart disease, stroke, cancer, depression, and dementia. Regular physical activity can also reduce the risk of developing locomotive syndrome, a disease of the bones and joints causing muscle weakness that can lead to falls and fractures, inhibiting independent lifestyles and necessitating nursing care. +10 supports healthier, longer lives.
Logic model of this study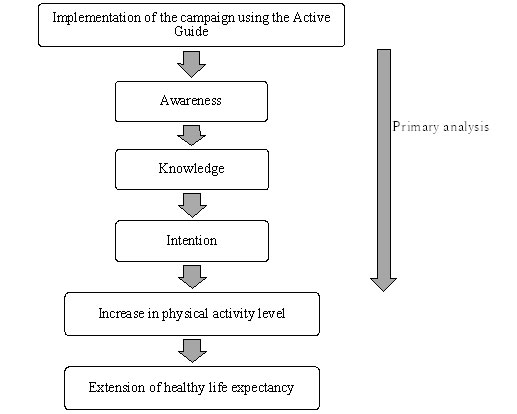 Multi-level intervention to promote physical activity: The Fujisawa +10 Project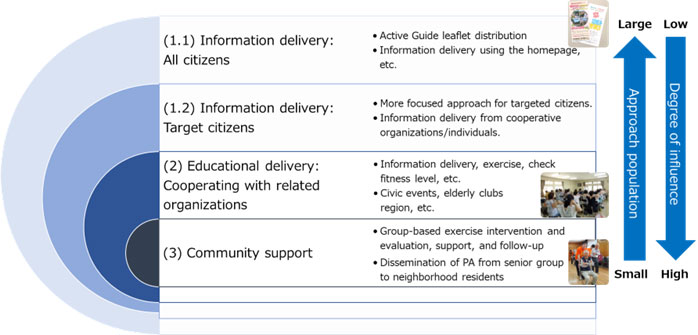 The activities of Fujisawa +10 were adopted by the Ministry of Health, Labour and Welfare in 2014 and by the Japan Agency for Medical Research and Development in 2015 as "Development of Intervention Methods to Prevent Dementia through Physical Activity Community-Wide Campaign," and are being developed and expanded in a way that places particular emphasis on preventing dementia.

This initiative will expand the target areas from four districts to the entire city of Fujisawa and promote physical activity in groups, based on the logic model (Fig. 1) that the volume of physical activity increases in response to fluctuations in cognition and intention.
---
---